Social Determinants of Health: A Cheat Sheet for Healthcare Marketers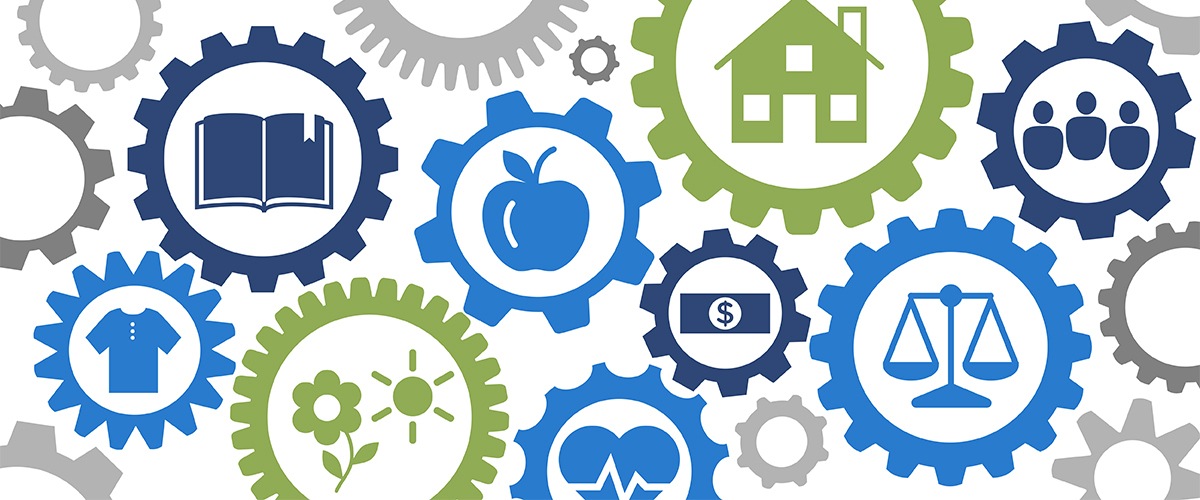 Use these 3 strategies to reach at-risk populations more efficiently — and deliver the care and services they need more effectively.
By: Linkwell Health Editorial Team
Once upon a time, experts thought about health primarily in healthcare terms: doctor visits, hospital care, prescription drug coverage. Today, we know better.
The conditions in which a person is born, grows, works, and lives have both subtle and staggering influence on their overall health and well-being. That's the basic idea behind social determinants of health (SDOH), which are often stratified by race and socioeconomic status. We've seen this play out during the COVID-19 pandemic, when Black and Hispanic Americans were far more likely to be infected and die from the coronavirus.
A growing body of research suggests that medical care accounts for at most just 20% of what contributes to healthy outcomes for a population. Other health-shaping factors range from access to healthy food and open space, to air quality and education, to gender- and race-based discrimination. In fact, research has shown that a person's health more strongly correlates to their zip code than their genetic code.
The health disparities laid bare by the pandemic have given new urgency to SDOH. In response, many healthcare companies have been furiously evolving old strategies — stretching beyond the doctor's office and taking a more expansive look at individual health issues. Health systems are investing in housing-focused interventions and partnering with community-based organizations (CBOs) that know vulnerable populations best. Payors are offering programs to improve health literacy and more holistically manage health conditions like diabetes. Employers are stepping up to offer workplace benefits that address housing and transportation needs.
Healthcare marketers need to follow suit — approaching SDOH not as an isolated issue to be addressed in certain campaigns but rather as the backdrop against which all health happens. Just as many providers are working to connect with at-risk individuals in their own communities, marketers need to tailor and transmit messages to target audiences in new ways.
Strategy #1: Broaden Your Content Delivery Approach
Marketing budgets have focused on digital outreach in recent years for good reason: Smartphones and social media increasingly dominate, largely regardless of social status. In fact, according to Pew, 76% of Americans who earn less than $30,000 annually own a smartphone. But the wisest approach is one that captures the widest audience, and that requires a varied, omnichannel strategy that reaches people via multiple sources. Building one takes more than simply ensuring that your e-blasts are regularly scheduled. It requires digital, analog, and in-person methodologies.
First, don't make the mistake of thinking all digital is created equal. While the traditional focus on email makes sense, excluding other digital formats may drastically limit your reach, considering that only about three-quarters of U.S. adults have broadband internet service at home, according to the Pew Research Center. Given the ubiquity of the smartphone, a text message campaign may be a highly effective way to disseminate information.
Next, zero in on print. Direct mail was the original marketing channel — and it can still play an important role by reaching people where they live (literally) and cutting through the crowded digital landscape. As noted above, zip codes correlate to health outcomes, so there's big potential for geographically targeted marketing campaigns informed by hyperlocal SDOH challenges. For those with limited access to the Internet, print remains especially powerful.
Finally, don't neglect in-person connection. More healthcare companies have begun partnering with community-based organizations, such as social service agencies and churches, to deliver services to members who might not be reachable at the doctor's office. In the same spirit of solving complex problems through cross-sector collaboration, healthcare marketers should consider whether such partnerships would be a rich opportunity for member engagement and communication. A live Q&A session can help spread the message in real time and give marketers a chance to distribute fliers or a print newsletter to attendees.
Strategy #2: Get More Granular with Personas
Marketing personas have been around for ages. A content program might be built to target women of a certain age or people who live in a certain region with a specific health condition, for example. But does your organization align personas to specific nonmedical SDOH-related challenges commonly experienced by members or patients in certain localities?
Consider, for example, a nutrition-focused initiative. Rather than paint personas with the broadest brush, why not create more nuanced personas with greater precision — and effect? One target niche could be individuals experiencing food insecurity. To reach that niche, materials could be sent to residents living in food deserts, which are concentrated in low-income areas where food insecurity and chronic diseases are more prevalent. Content could focus not just on healthy eating habits but on how to obtain healthy food.
Yes, it requires more effort upfront to parse personas with greater precision. But the payoff can be infinitely greater. And that's what any healthcare marketer is after — clear results, in the service of improving member health.
Strategy #3: Signpost How to Clear Care Barriers
Many SDOH-related efforts focus on how to help people overcome long-standing structural barriers to optimal health: things like a lack of adequate income or transportation, or substandard housing. Healthcare organizations have learned that it's not enough to detail healthy habits and available services. They need to help remove the barriers that push services out of reach.
Healthcare marketers understand this, of course. But now is the time to double down on implementing that lesson. It's not enough to, say, promote free community-based health screenings designed to ramp up preventive care among a certain population. Think carefully about possible barriers that might prevent an individual from taking action and attending a screening.
A lack of transportation or childcare, for example, could be at issue, no matter how motivated someone is to proactively improve their health. Healthcare marketers may not be in a position to solve those problems — but they can highlight solutions that already exist. For example, both Uber and Lyft have begun partnering with healthcare organizations in recent years to help ensure that patients can make it to appointments.
If your organization is able to connect members with transportation for a health fair, for instance, be sure to highlight that fact clearly in any content promoting the event — don't assume that those who need a ride will know to ask or have the time to hunt down info about the program. Are there interpreters standing by when members call a health coach? Promote that fact (in the language!) on all materials you send out to members.
Just as health is shaped in ways big and small by someone's surroundings, the efforts and intention healthcare marketers take to address disparities and smooth access speedbumps can likewise make a difference. But to effect any change, first healthcare marketers must be ready to adjust their tactics and take a whole-person approach to health.